Sharing is caring
We're not yet done with the production of our first full batch of the limited edition Hereticle crosshairs gaming gadget. But we couldn't resist sharing with you some pictures of the fully assembled Hereticle in its element – mounted on a monitor, ready for some serious shooting action. Yes, the photos are not really studio quality – but hey, we're on a self-funding budget here, so cut us some slack, ok?
So without further ado, we present to you…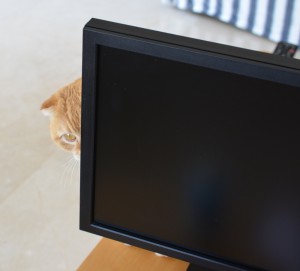 Seriously, Cat, what are you doing here? Need I remind you of the hazards of curiosity for a cat? Besides, you should be busy assembling our gadgets! Prepare for a serious talk right after I'm done writing this post.
Ok, so with apologies for this cat's lack of manners, we present to you:
Hereticle, mounted and ready to go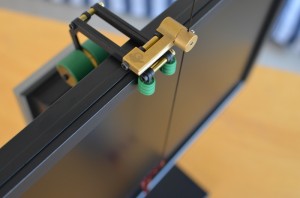 Here it is, sitting solidly on the top edge of a monitor. You can see it proudly displaying the awesome Hereticle raven logo (Iggy, you're the man). The thin carbon rod extends straight down towards the center of the screen, but you can't quite see the sight itself. So here's another shot: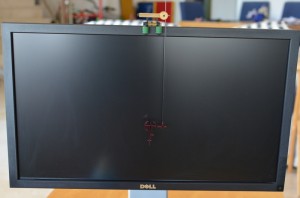 See how the rod is perfectly perpendicular to the top edge of the monitor? That's neither a coincidence nor a result of some painstaking manual setup. That round thingy the rod is inserted into is designed to rotate around its axis and snap into a fixed position right here. Or, when you'd like to withdraw the sight from the action, here: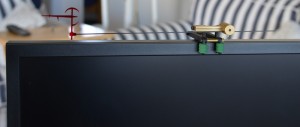 On the back of the monitor, the stabilizing counterweights provide additional stability, making sure the crosshairs gadget sits firmly in place when mounted, while also allowing you to lift it up and remove from your monitor whenever you feel like it: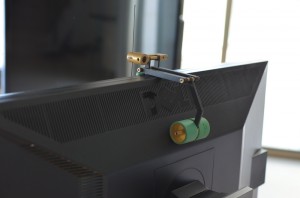 So there you have it! We're getting closer to being ready to start shipping these guys out. That is, if that cat gets its act together and quits slacking. Cat! Get in here!..